A travel down memory lane!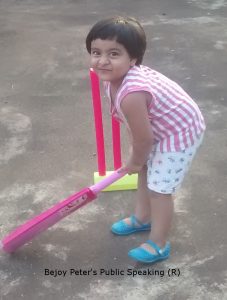 Now let me tell what cricket has taught me:
The most important thing it has taught me is sportsman spirit. There are good days and bad days in cricket. One cannot be at his best on all days, be it batting, bowling, or fielding. I also earned to treat the opposition with respect, and not to underestimate a weak team.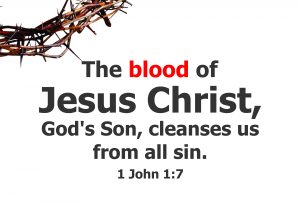 Yet another lesson learned was how to plan an innings. Playing cricket also helped me learn to persevere, which has been that one quality that has kept me going through tough times in life.
I cannot but mention some of the leadership lessons cricket has taught me as I got opportunities to captain my team.
Captaincy is an art. The most important quality you need as a leader is calmness under pressure. This I had in plenty then. One should have deep reservoirs of optimism even when everything around you is falling apart. Sudden loss of wickets or the opposition team tearing your bowling attack apart should not pull you down.
Again, the art of captaincy demands that your thinking should be fast forward. Decisive action and ability to communicate commands effectively are leadership qualities a cricket captain has to exercise and I got well-trained in it.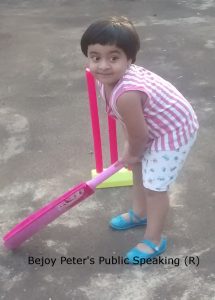 Daniela B. Peter @ 3 years playing cricket in the evening at terrace of our home. www.bpps.inBut beyond all this cricket as a hobby gave me great joy. More than the physical exercise it provided, it was the gelling between friends that provided the greatest satisfaction. Even today memories of matches played bring a smile on my face.
And if you want me to pick out one thing—yes, that one thing that I fine-tuned, polished, and brought to a class act through playing cricket, it is the art of finishing strong and finishing well. For nothing has given me a greater sense of satisfaction than hitting the winning run or taking the final wicket.
Let me conclude by saying that cricket is a beautiful game. It not only entertains but educates as well. Winning a game of cricket remains a great art. And not all teams win all the time. Perhaps more important is how you played the game.
A Champion's Delivery Secrets
The Role of Sports and Games in the Life of Children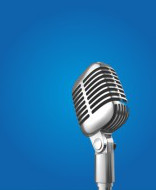 "Form is temporary, class is permanent."