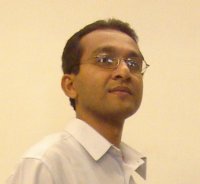 Bejoy Peter's Public Speaking® is a unique training programme. Its basic structure is that a BPPS Batch consists of 10 to 12 training sessions usually 2 to 3 hours duration over a period of 10 to 12 contiguos days.
The Course is also conducted as a 3 Day Workshop too. BPPS course is always customized to meet the specific needs of individuals and groups in Corporates, Professional Colleges, Academic Institutions, Research and Social Organizations.
BPPS comes to you with real expertise that has transformed the lives of 3599 Professionals and Students over the last 20 years in 204 Batches.
The BPPS blog is an extended arm to help people with some tips on communication. However, this can never substitute the experience of attending a live BPPS training programme.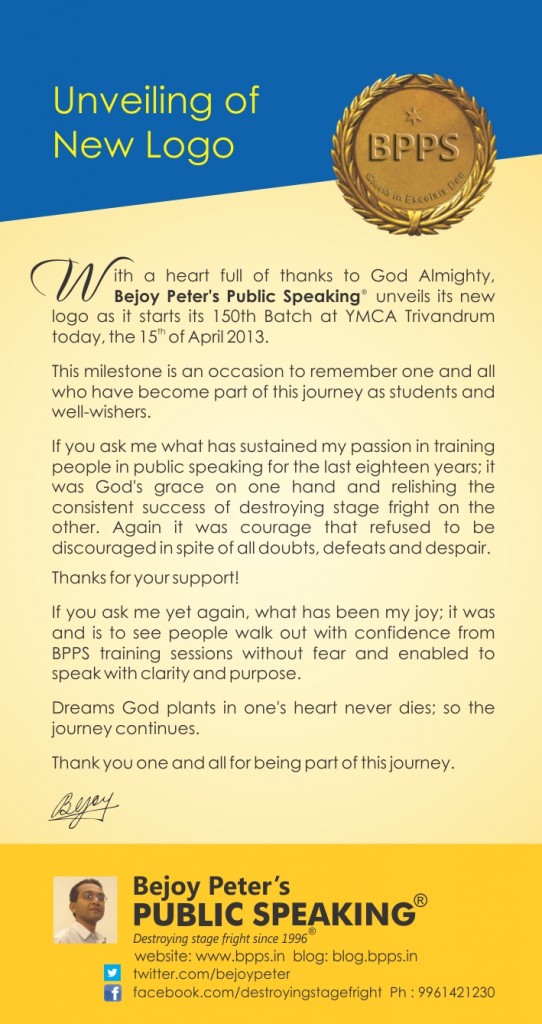 Facebook.com/destroyingstagefright
twitter.com/bejoypeter



Interview
# Interview in The Hindu
Beginnings
The story of how I became a Public Speaking Trainer
22nd September 1995
When I had completed my Post Graduation and was waiting for my results I was invited to engage a group of high school students with some activity at the YMCA Trivandrum, Kerala, India on 22nd September 1995. I found myself in the midst of around 90 enthusiastic and lively students from the prestigious schools in the city.
Something happened that day. A friendship was forged with many of those students that has lasted all these years. And I was asked to continue training them (around 40 students used to attend regularly) week after week every Saturday evening.
The request was accepted and I found myself enjoying the company of lively school children and the mentoring-role I was playing. Little did I know that I was being prepared for my life's work. For over a year, each week it was a continuous quest for developing some kind of a new activity that would keep them interested and informed, bring out their talents and improve their communication skills. The results were not much evident then. It was only in later years that those children would tell what positive difference Hi-Y (High School-YMCA) had made at a crucial time in their lives.
The Transition
Then one day in mid-April 1996, on a sudden impulse I just asked the YMCA authorities to block the Mini Hall for me to conduct a class on public speaking the last week of May. This is how it happened: I was sitting at the YMCA Office when I saw a person come to the office to book the Hall. As I watched I found out that the process was simple and the money involved not too high. I had a look at the calendar that hung on the wall and just like that made a decision; not at all knowing how to proceed further or what I would teach when the Course would commence!
This was the day that the first advertisement was published in the newspaper. It immediately caught the attention of the public as it was the first kind of such a Public Speaking Foundation Course in the city.
27th May 1996
An unforgettable day. The first batch started on a day of Bandh which was declared quite unexpectedly. In spite of the fact that many could not contact me; and also were not able to travel due to the Bandh, 8 participants walked into the YMCA Hall that evening. A small beginning on a day when it looked highly improbable. Surely, "with God all things are possible."
Acknowledgement
The journey continues. And I strongly believe that no man succeeds on his own. In fact, a self-made man is to a large extent a myth. In my experience a host of people have helped me succeed. I wish to acknowledge each one of them for their help; both big and small. I am unable to mention names here because they are many. But in my heart there will always be a memory and a prayer to wish them well.
That's why people call it the BPPS Magic!