Have you ever felt you are not worthy? Or for that matter, insignificant? Or even useless?
If yes is the answer probably you are having a problem with low self-esteem.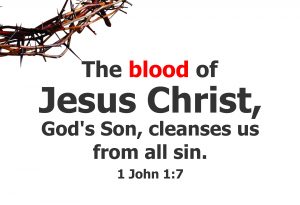 There are no easy answers to this difficulty like waving a magic wand to bring a rabbit out of a hat!
But then you can focus on the value God has put on you. It doesn't matter how you see yourself or how others see you. What matters most is how you understand how God sees you.
That brings you to a new problem. You are struggling with past hurts, present criticism, and even struggling with habits and behaviours you seem unable to get rid of in spite of all efforts to do so.
You might be calling yourself a "wretched man" like how St. Paul described himself.
Peace can only be found if you accept God's love for you put to public display on the cross where Jesus bled and died for you.
Now what does that mean to you today? Can his death give you a sense of worth?
It is a good question. Now think about it this way:
Even as you shop in malls and supermarkets you might look at the price tag of things you wish to buy; don't you?
Likewise, the blood on the cross is God's price tag for the value he has put on you. Yes, God loves you; just the way you are!
But that is just a beginning. The blood on the cross is also a promise that God will, with great patience, bring out something beautiful out of your sense of inferiority and lack of confidence.
This is the truth. God does not despise you. Especially when you fail. Instead he is longing to build you up strong.
It will take time. It will not be without conflict. You will still struggle with darkness clouding your soul at certain seasons.
Yet no man or powers of hell can snatch you out of God's everlasting arms that has taken a firm grip on you!
Short Speeches of Introduction, Welcome, Felicitation, Vote of Thanks